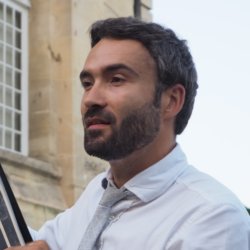 Romain Desclos
Hope to see you in Normandy
Caen and William the Conqueror
Walking tour,
With your bus,
Guided Hiking Tours,
Private tour
Born in Caen, I left my city for a few years to study in Paris. After a tour-guide diploma in 2004, I returned to the sources where I practiced this job for 15 years at the Abbaye-aux-Hommes / City Hall of Caen. Within this emblematic monument of Normandy, thousands of visitors, families or groups have walked alongside me in the footsteps of William the Conqueror.
Member of the Historic Society of Normandy, I beacame an independant tour guide in 2019 to share my passion with you. Whether you are traveling alone, as a couple, with family, with friends, or in a group, I am waiting for you here in Normandy to make you discover this land of contrast that will amaze you with the richness of its history, its heritage and its landscapes
Contact me
You'd like to plan a visit with this guide ?
0623465084
One of my favourites