Iain Hennelly
D-Day & Cultural Guide
English,
French,
Spanish,
German,
Japanese
Helping you to discover...
Driver-guide,
With your bus,
Walking tour,
Private tour
My Childhood :
As a 16-year-old school-kid in my native Scotland, I took part in the very first foreign educational exchange, which was set up in 1989 to improve future ties between the UK, Germany, France and the EU.

As part of a group of Scottish, German & French students we spent two years studying the History of The Second World War (WW2) on all sides, including the socio-economic catalysts for Hitler's rise to power.

As part of the German leg of the 1st year's trip we visited several concentration camps together and also entered East Berlin via a very intimidating Checkpoint Charlie – just 5 months before The Berlin Wall came down! We were 'welcomed' by the East German government's (communist regime) political representative and received a very stale, formal and quite 'troubling' presentation in a large amphitheatre in the Reichstag (a place Hitler regularly spoke). East Berlin was to mark the beginning of my research into WW2 and it was an experience I will never ever forget.

But only six months later, on November 9th 1989, the Berlin Wall was torn down in what became a worldwide celebration of Freedom – and a mediatised frenzy: I still recall seeing a famous actor singing on top of it, surrounded by hundreds of thousands of people literally ripping the wall apart with sledgehammers, revelling in their long-awaited liberation, and no doubt overwhelmed by the thought of seeing family again after so long. It was all very surreal and very emotional.

At age 16 these experiences were life-changing.

Six years earlier my Gran had taken me to Pearl Harbour and I'll always remember seeing the sunken hull of the USS Arizona there. Without my realizing it, back then my passion for The History of D-Day had already been kindled.


My time at University & Career choices :

I continued my studies up through university, and graduated from Stirling University in Scotland in 1997 with an Honours Degree in French, German and WW2 Studies. I went on to teach English for 13 years overseas before returning to university in 2011/12 to complete a long-term goal of a Master's Degree in IT. In later years, as a result of extended stays in South America, I would also learn Spanish.

At some point in the midst of these travels I would find myself working as a Wedding Celebrant in Japan and today I can still clearly recall standing outside the Peace Museum in Hiroshima, contemplating my own disjointed journey – trying to make sense of it all – when I suddenly had one overwhelming thought: Normandy !

Contact me
You'd like to plan a visit with this guide ?
0783810921
One of my favourites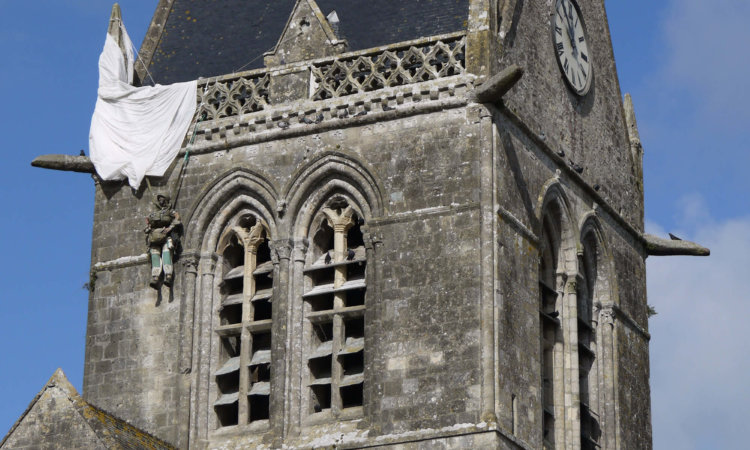 The American Paratroopers' Mission in June 1944
Full day