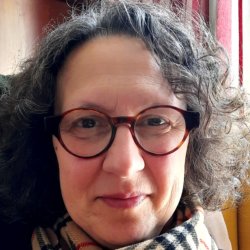 sophie-marini
Listening, sharing and good humour
With your bus,
Walking tour
Norman of adoption, I will transport you to other horizons both by my stories and by my accent. Oh! Rest assured he remains discreet but it is up to you to guess my region of origin.
I am not only a name and a surname but also a person with qualities. Which ones? Generosity, willingness to please, great availability and a taste for work. As for my faults! One, the greed …
Finally I have two passions: Art History and History. When you combine these two universes, a magic occurs and transports you to the imaginary. So let me tell you, big and small, these stories.

After a first career as director of a hotel establishment and head of a bookstore, I went back to university.
Graduate of the first cycle of the Ecole du Louvre, specialization Archéologie de la Gaule and a Master's degree in History – Valorisation of Heritage at the University of Rouen Normandie, I am today a guide-Lecturer and cultural mediator for various seinomarines museum structures.
With a smile and conviviality, I will accompany you through the streets and paths of Rouen and then Normandy to discover the great History and the small stories.

Looking forward to meeting you
Contact me
You'd like to plan a visit with this guide ?
0662075723