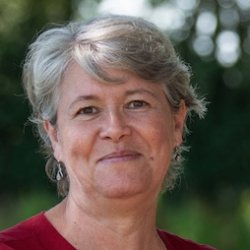 Anne-Marie JOUENNE ISABET
A tour is always a meeting. It's a journey in its own right, with its fair share of discoveries to make at your own pace, according to your wishes.
Walking tour,
Guided Hiking Tours,
With your bus
Born in Normandy, I have the pleasure of sharing the history of my region and showing people the sites, villages and traditions that are part of Normandy's charm. I studied Norman history at the University of Caen and art history in Paris. Since 1983, I've been sharing my passion for history and knowledge of Normandy as a tour guide.

Regarding the Second World War, I grew up with the history and experience of my parents and other family members who lived through the D-Day landings and the Battle of Normandy. I've had the good fortune to meet many veterans (Canadian, British, American and German). Learning history through their lived experience and being able to share it today is an exceptional experience.
Contact me
You'd like to plan a visit with this guide ?
06 81 62 70 56
One of my favourites