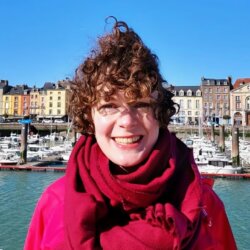 Laura Dubuc
Looking for a time of discovery and sharing that will leave you wonderful memories ? Laura is the guide you need !
Passionate & Enthusiastic
Walking tour,
With your bus,
Private Lecture,
Guided Hiking Tours,
Private tour
Behind this smile is a tour guide 100% made in Normandy ! 🍎😉

Born and raised in the heart of the Alabaster Coast, in Dieppe, I spent my childhood here.
At the age of 18 I left the city to study in Rouen and then in the Sorbonne University in Paris, where I lived for 5 years.

After 10 years out of the city and lots of countries crossed with my backpack I chose to come back to my roots in 2019 because it's definitely the place my heart belongs to.

As a tour guide, I consider myself as an ambassador and wish to help people discovering Norman history, heritage, gastronomy and daily life.

Passionate not only about my region but also about human relationships, people who know me well tell that I have a very outgoing and solar personality 🌞
I dislike any type of injustice and militate for more authenticity in our society.

Should you have any need, feel free to contact me and I will do my best to provide you the guided tour you're dreaming about ! ✨
Contact me
You'd like to plan a visit with this guide ?
06 98 02 21 11
One of my favourites